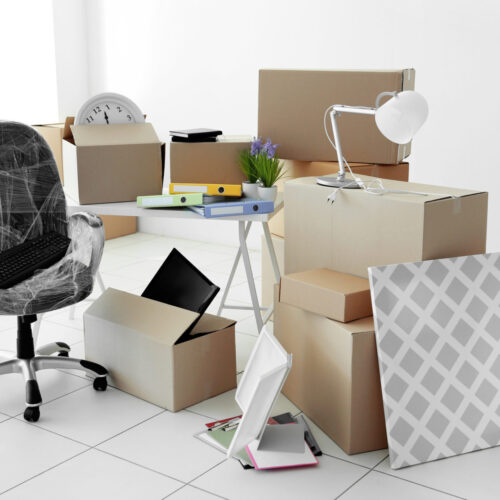 Office Moving in Toronto
Whether you are moving your full company or just a few items, Elite GTA Movers is Toronto's best-moving company. Our Full-Service Moving Company in Toronto is experienced, trustworthy, fast, and dependable. Our team will make sure that your move is planned according to your work timeline to avoid disruption at your workplace. We are happy to be the top Office Movers in Toronto.
If you are looking for Professional Toronto Movers, who have expertise in office shifting or other business moves. We will make your relocation efficient and stress-free.
Our goal is to keep your business running as smoothly as possible. Being the best Moving Company, we can handle weekend and after-hours moves. We will manage all aspects of your relocation.
Specialized Business and Office Moving Services
It's hard to find a business and office moving company that can match all your requirements. We have years of expertise handling most business buildings and will ease everything for you so that you don't have any trouble along the way – all error-free! Office moving services include the following, based on your business and office relocation needs:
Office relocation services are quick, efficient, and secure, with minimal disruption
Reusable boxes and other moving supplies
Excellent Moving supervision and customer service throughout the commercial and office moving procedures
Professional business and office movers for packing and unpacking
Dollies, moving blankets, and professional moving equipment are all available.
Unwanted furniture and equipment removal and recycle
All fixtures, furnishings, and fittings must be disassembled and reassembled.
Extremely skilled, trustworthy, and reliable Toronto office transfer
To reduce loading time, a modern fleet of vehicles of varied sizes is fitted with hydraulic lift gates, ramps, and multiple access doors.
Inventory tagging and labeling before business and office relocation
Safe business storage for short or extended periods in our cutting-edge facility
Moving, Packing & Storage for Office Moves
Planning an office move :- Moving an office can seem like a major task, but with planning, it can be fairly simple. The key to success is a company, both in packing up your old workplace and in setting up your new one. Hiring a Professional Moving Company is a smart option because it frees up your personnel on moving day to focus on other tasks. You can feel guaranteed that your workplace move will go off without a hitch! When you're ready to move, Elite GTA Movers is here to assist.
Packing Moving Boxes:- According to office movers, packing is the most time-consuming and vital part of the complete moving process. For the best packing and moving services safety, efficiency, and the preservation of your possessions throughout the relocation are necessary. Proper packing and suitable labeling are ensured before the move.
Best Office Moving Service
Elite GTA Movers is a Toronto-based professional moving company that focuses on office relocation. Our professional movers understand how an office relocation can be a difficult and stressful process, which is why we work with you to ensure the success of your move.
We provide a variety of office relocation services, such as packing and unpacking, shipping all of your office equipment and furniture, and storage options. We are the movers for all your moving needs if you relocate to your workplace.
Our expertise has taught us how to construct successful supply chains, specialized transportation and distribution solutions, and fully satisfy the needs of each customer. We evaluate, recommend, implement, and maintain a complex supply chain that is suited to the demands of our customers. We provide services for Office Moving in Toronto and also in populous metropolitan areas. You can contact us if you're looking for services of Office Moving in Ajax, Office Moving in Clarington, Office Moving in Brock, Office Moving in Oshawa, Office Moving in Burlington, Office Moving in Halton Hills, Office Moving in Milton, Office Moving in Oakville, Office Moving in Brampton, Office Moving in Caledon, Office Moving in Mississauga, Office Moving in Aurora, Office Moving in East Gwillimbury, Office Moving in Georgina, Office Moving in King, and Office Moving in Markham.